Tory Christman
Among the dozens of extremists she associates with daily are atheist and racist David Touretzky, Neo-Nazi supporter Arnaldo Lerma, and Keith Henson, an explosives expert and convicted hate criminal who fled to Canada to avoid jail time. Con artists include violent "deprogrammers" such as Rick Ross, a convicted jewel thief, who now charges the families of religious people exorbitant amounts to kidnap their family member and hold them against their will until they recant their beliefs. Deprogramming methods are comparable to the kind of mental cruelty and physical restraint that some prisoners were subject to at Abu Graib.
Christman's primary mentor is Andreas Heldal-Lund, a Norwegian extremist who, amongst his many attacks on Christianity, was arrested for conducting a hate march against the Lutheran Church at their 1,000-year anniversary. Heldal-Lund maintains a website that promotes death threats against Scientologists, recommends specific means by which they should be killed, and encourages violent actions against the Church itself.
Tory Christman is known for stalking and harassing Scientologists at their homes, places of worship, and for launching vindictive personal assaults against them over the Internet. Like con artist Rick Ross, she has also taken up deprogramming, a particularly cruel means of depriving an individual of his rights to freedom of religion and freedom of speech. Christman also promoted, in her favorite hate newsgroup, that someone should burn down a Church of Scientology. She likes to publish threats over the internet that appear to be warnings of future harmful actions:
Christman: "[The Church]will just have to wait and see what I do next. They may wish I kept the horns"
Poster: "did you see the new press release on you on the RFW?"
Christman: "Naturally…………well, they can see MY latest press review soooooooooooooon."


Arel Lucas
Christman and a handful of her cronies would talk to any tabloid reporter who will listen to their lies, possibly in an attempt to grab some money from the Church. Christman is living in reduced circumstances and recently teamed up with another extremist, Arel Lucas, whose husband, Keith Henson, has been criminally convicted.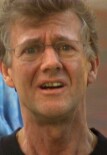 Graham Berry
Graham Berry is an unemployed attorney, who stated under oath in the past in a court of law, that his psychiatric problems, alcohol dependency and treatment prevented him from practicing law.