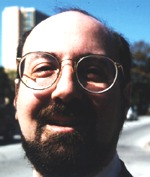 David Touretzky
In 2003 the same Dave Touretzky mentioned in Pamela Lichtenwalner's email announced, in a hate newsgroup, "Operation Bridget" (named after Margaret "Bridget" Singer). Later Touretzky wrote:
"Operation Bridget 1 is currently in Phase II of its implementation. … Phase III will begin with the publication of an article on Narconon in the San Francisco Chronicle. The article is by Nanette Asimov, the Chronicle's education reporter." – March 6, 2004
Why Margaret Singer? The answer comes from an article written about herself by Nanette Asimov, where she states:
" 'You've been in a cult of two,' was the diagnosis of Dr. Margaret Singer, one of the nation's leading experts on group-think and charismatic leaders. … I called her because I felt brainwashed, as though my life had been under someone else's control for the past dozen years."
Do Nanette Asimov and Pamela Lichtenwalner share the same friendship with Margaret Singer? We don't know.