On July 19, 2000, Keith Henson was arrested by the Riverside County, California, Sheriff's Office for making terrorist threats on the Internet against the Church of Scientology. On April 26, 2001, a jury found Henson guilty of having committed a hate crime under section 422.6 of the California Penal Code. Henson was scheduled to appear for sentencing on May 16, 2001, but failed to appear and the Judge was forced to issue a warrant for his arrest. He soon surfaced in Canada where he was arrested by Immigration authorities for having failed to disclose his conviction in the United States. Henson was released on bail in Canada pending a final disposition of his case and was restrained from coming within 100 feet of any Scientology Church.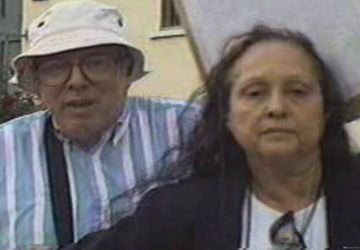 Keith Henson and Arel Lucas
Meanwhile, on July 20, 2001, the Riverside County Judge sentenced Keith Henson in absentia to one-year in county jail. As an alternative, the Judge ruled that Henson could accept a six-month jail term, three years probation, and pay a $2,000 fine. He would be restricted from going near the Church he had harassed and be subject to search for explosive devices. The Judge also stated that when Henson returns to the United States he will, in addition, face up to half a year in jail and a $1,000 fine, plus penalty assessments, for having failed to appear at the sentencing hearing on May 16, 2001.